'Masterpieces of Elba's nature.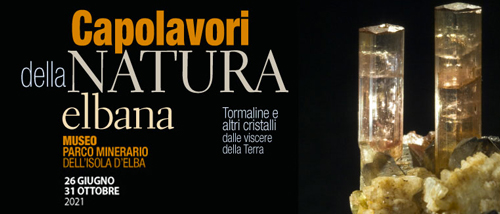 On 26 June the exhibition 'Masterpieces of Elba's nature. Tourmaline and other crystals from the bowels of the earth' opens in Rio Marina (Elba Island, Tuscany).

Curated by Vanni Moggi Cecchi and Lucilla Fabrizi, the exhibition is the result of the collaboration between the University Museum System and the Mining Park of Elba Island.
For the first time, spectacular specimens of minerals with great aesthetic, historical and naturalistic value return to shine in the land that generated them.
The minerals, crystallized in the bowels of the island of Elba millions of years ago, were extracted between the end of the 18th and the beginning of the 19th century from pegmatitic veins, layers of rock filled with mineral wealth, brought to light by tectonic thrusts.
Out of all the exhibits the polychrome crystals of the splendid and unique Elba tourmaline, stand out with their perfect geometric shapes and considerable value.
The same pegmatitic veins have also generated beryls, grenades and quartzes of remarkable dimensions and extraordinary beauty.
The exhibition develops through a path that illustrates the characteristics of the pegmatites, their formation, and exploitation. Thus, the geology, the typical mineralogical species of Elba, and the 200 years of exploration of its fields are described.
The exhibition wraps up with the fascinating history of the famous Elba Collection and its wonderful specimens, some of which have been recently restored.
All minerals belong to the Mineralogy and Lithology Collection of the Museum of Natural History - University Museum System of the University of Florence, waiting to be housed and exhibited to the public at the 'La Specola' Museum once the refurbishment works are completed.
The exhibition is included in the program of the TUR2021 conference, Third International Conference on Tourmaline.
Masterpieces of Elba's nature
Tourmaline and other crystals from the bowels of the earth
26 June - 31 October. Hours: 9.30 am -12.30 pm | 3.30-7.30 pm | 9-11 pm
Parco Minerario dell'Isola d'Elba, Palazzo del Burò
Via Magenta, 26, Rio Marina (LI).
Info: + 39 0565 962088; e-mail: info(AT)parcominelba.it