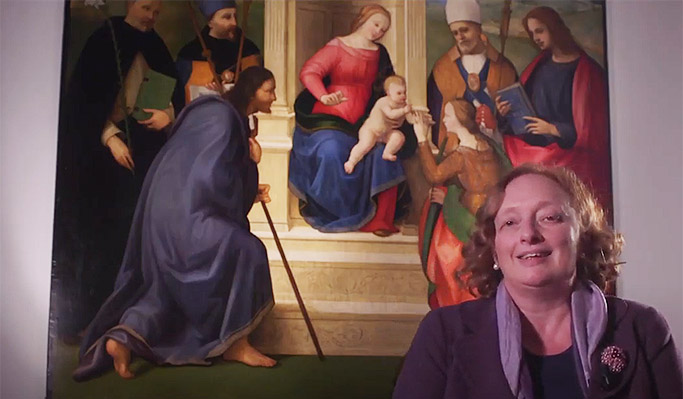 The altarpiece known as the Mystical Marriage of Saint Catherine of Alexandria and Saints, by Ridolfo del Ghirlandaio, has returned to shine, after an accurate restoration, in the Hall of Masterpieces of Villa La Quiete, where other exceptional works are exhibited, including those by Sandro Botticelli and Lorenzo Ghiberti.
The intervention, which is part of the project to recover the cultural heritage of the University and the Museum System, was conducted by a team of specialists: Rossella Lari for the painted part, Roberto Buda for the wooden support, Lia Brunori from the Archaeological, Fine Arts and Landscape Superintendence of Florence, Donatella Pegazzano, art historian and member of the Museum System of the University. The National Institute of Optics has been involved in the diagnostic investigations.
Over the centuries the work has undergone numerous restorations and reworks, among which the additions of panels that had changed its size, the strong cleanings that had abraded the colour, the invasive interventions that had hidden part of the throne, faces, and hair. In addition, acts of vandalism with engravings and insertion of pins had further compromised the color and the underlying preparation.
In the video (in Italian), Donatella Pegazzano tells the story of the work, while the restorer Rosella Lari describes the complex restoration work and the exceptional results achieved.
The video in the Unifi Magazine article