Palawan Missions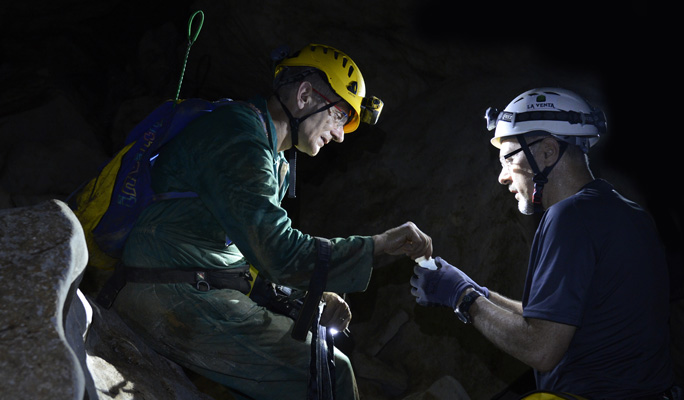 The site
The Museum of Natural History has been called to give its scientific contribution in order to ensure the preservation of a wonder of nature, the "Puerto Princesa Underground River Cave" in the Philippines, declared a World Heritage Site by UNESCO. A cave on which investigations have been conducted for over 25 years with the help of speleologists, geologists and chemists from Italian and Spanish universities.
The "Puerto Princesa Underground River Cave" is inhabited by a rich fauna that makes it a precious place for biodiversity. Bats, swallows, snakes, spiders, scorpions, Scolopendra, crustaceans and numerous invertebrates coexist in this enormous cavity that stretches for over 30 kilometers in the belly of a calcareous massif in the province of Palawan.

The missions
The zoologists of the Museum took part in two exploratory expeditions (autumn 2016 and spring 2017) with the aim of assessing the impact of a growing tourist flow on the cave and developing an appropriate management plan to ensure the conservation of this place.
During the missions, some specimens were collected in order to study the fauna of this huge cavity and the complex relationships between the animals within its ecosystem. Biospeleologists and entomologists of the Museum of Natural History are supported in their research by a network of Italian and foreign specialists.
The Museum also held a biospeleology training course for the personnel of the natural park and contributed to the creation of a documentary, distributed by the production company One Planet in English and French.

Partners
Department of Biological, Geological and Environmental Sciences of the University of Bologna, Department of Earth Sciences of the University of Florence, Department of Physics of the University of Turin, Department of Mathematics and Geosciences of the University of Trieste, Department of Biology and Geology University of Almeria (Spain), University of Puerto Princesa (Palawan, Philippines), Puerto Princesa Underground River National Park.
SMA contacts: Paolo Agnelli, Stefano Vanni