PIM Petites Îles de Méditerranée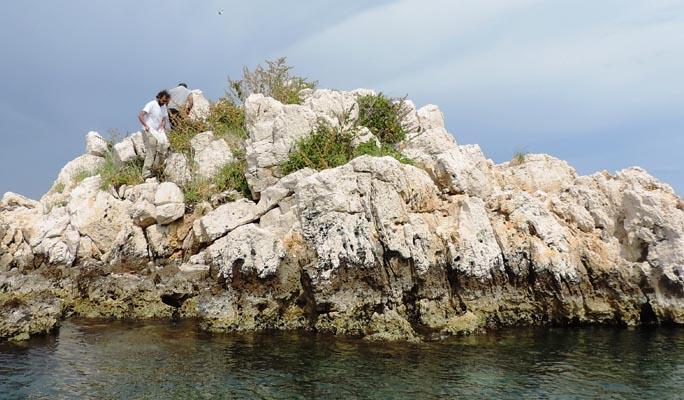 The programme
Since 2006 the French Conservatoire du Littoral coordinates an interesting international program dedicated to the promotion and management support of the small Mediterranean islands, co-funded by the French World Environment Fund (FFEM), the French Water Agency and the City of Marseille.
The program is called PIM (Petites Îles de Méditerranée - Small Islands of the Mediterranean Sea) and has, among other things, promoted a fruitful collaboration between naturalists and biologists specialised in various disciplines to achieve one of the fundamental objectives as a prerequisite for safeguarding these marvelous but fragile ecosystems: the census of the forms of life that live there and often take refuge there, disappeared or threatened by various agents on continental lands, like on small rafts drifting.

The participation of the Museum of Natural History
The Museum of Natural History of Florence has participated in some of the scientific missions organized on the micro-archipelagos of the western Mediterranean in recent years and in May 2018 it was in charge of the botanical part of the first PIM mission organized in the eastern part of the Mediterranean, carried out with the precious collaboration of local colleagues in the Albanian waters of the Strait of Corfu, on islets almost unknown from a botanical and zoological point of view.
The data collected, still under investigation, will be published jointly with those of other fellow geologists, botanists and zoologists. Over the course of 4 days of excursions, some hundreds of plant specimens were collected, now kept in our Museum, among which are also some rare species or reported for the first time in the Albanian territory. Together with those of the AGRONICKEL project, we like to think that the specimens from Albania represent an important enrichment of our collections on the path already traced over a century ago by Antonio Baldacci, a Bolognese botanist who travelled along these lands and endowed the Florentine Museum with most of his own collections.


Publications
Corti C., 2015: L'Herpétofaune des Iles Kerkennah. Compte-rendu de prospections (text in French), with Said Nouira
Corti C., 2016: Herpétofaune des îles et presqu'îles du Parc National de Taza – Algérie (text in French)

SMA contacts: Lorenzo Cecchi, Claudia Corti