Surveys on allochthonous species: Biological invasions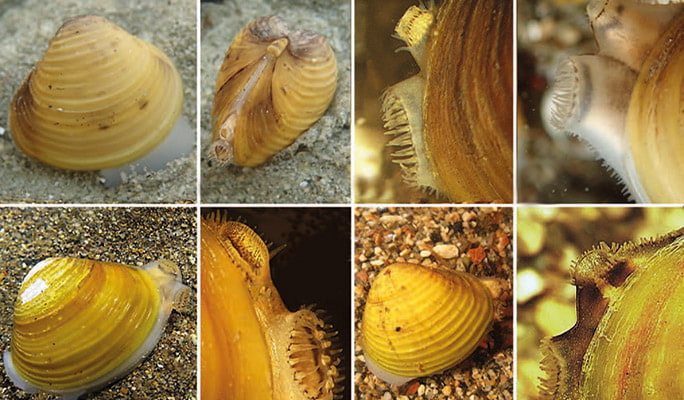 photo: (Living specimens of Corbicula spp.)

The phenomenon
Among the factors that determine the reduction of biodiversity on Earth, biological invasions are second only to the destruction of habitats. Allochthonous species, commonly referred to as "alien", are animal and plant species, consciously or unconsciously introduced by man in areas where they were not present. Their introduction causes enormous damage to the environment and the human economy. The phenomenon is ancient, but with globalization there has been an exponential growth in the introduction of non-indigenous entities.

The projects and contributions of the Museum of Natural History
The Museum of Natural History has been at the forefront of studies on biological invasions for decades, through numerous projects on the most important and widespread "pest species", that is, those that have the most disastrous impacts on the territory. The results of the projects are published in scientific and dissemination publications.
The latest studies concerned freshwater gastropod molluscs (Sinotaia quadrata) and bivalve molluscs (Corbicula spp.), introduced in Tuscany a few years ago.
The projects on these species have been carried out by the Natural History Museum, as a lead-file, and coordinated by the curator of the malacological collections Simone Cianfanelli with the collaborators Marco Bodon and Gianluca Stasolla. The projects involved also by the Department of Biology of the University of Florence, the Museu Blau of Barcelona and some Regional Environmental Protection Agencies (ARPA).

Publications
Bodon M., Lopez-Soriano J., Quinonero-Salgado S., Nardi G., Niero I., Cianfanelli S., from Mas A., Elvio F., Baldessin F., Turco F., Ercolini P., N. Baldaccini G., Costa S.: Unravelling the complexity of Corbicula clams invasion in Italy (Bivalvia: Cyrenidae). Bollettino Malacologico 56, issue 2 of 2020, pages 127-171. Abstract from the Italian Society of Malacology, with paid access to the full resource.
Cianfanelli S., Stasolla G., England A. F., Tricarico E., Goti E., Strangi A., Bodon M.: First European record of Sinotaia quadrata (Benson, 1842), an alien invasive freshwater species: incidental or voluntary introduction? (Caenogastropoda: Viviviparidae). Bollettino Malacologico 53, issue 2 of 2017, pages 150-160. Abstract from the Italian Society of Malacology, with paid access to the full resource.

SMA contact person: Simone Cianfanelli