Tales of a Whale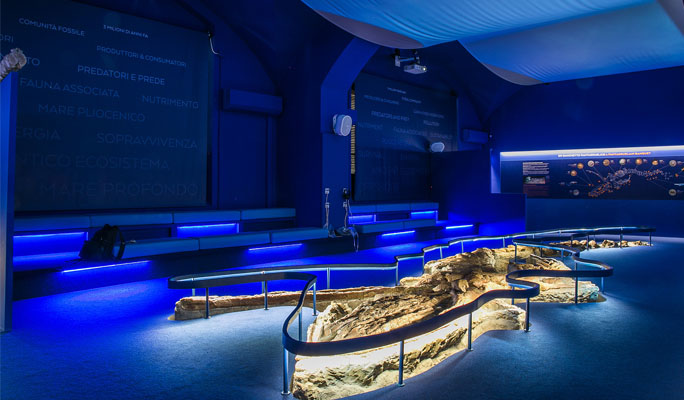 Tales of a Whale | Storie di una balena

At the center of one of the rooms of the Museum of Geology and Paleontology is the fossil skeleton of a whale that lived three million years ago. The fossil, ten meters long, found and excavated in 2007 in the hills of Orciano Pisano (Pisa), has been the subject of an innovative immersive installation that gave life to the "Tales of a Whale" room.
Lights, colors and sounds of the multimedia setup recreate a marine environment where visitors, just as if they were at the bottom of the sea, can walk next to the fossil to observe the skeleton and the remains of the animals that fed on its decomposing tissues: sharks, stingrays, crabs, gastropods, sea urchins, bivalves and bone-eating worms. Above the visitors the suggestion of being under the sea is enhanced by the projection of large humpback whales that swim and sing, immersed in blue.
The illuminated showcases containing paleontological, zoological and anthropological finds stand out, while microscopes and diving masks make it possible to watch videos on marine micro and macro-organisms. Opposite, 40 comfortable seats welcome visitors to listen from headphones and watch the bilingual video "Tales of a Whale | Storie di una balena."
The ancestor of the modern marine ecosystem is here exposed and Man, the most dangerous among the species, takes part in it by jeopardizing the survival of the organisms living in the Mediterranean Sea with its unsustainable lifestyle.
The project Whale HUB - Audience Development, Sustainability & Contemporary Art, curated by Valeria D'Ambrosio and promoted by the Fondazione Cassa di Risparmio di Firenze was born in 2018.